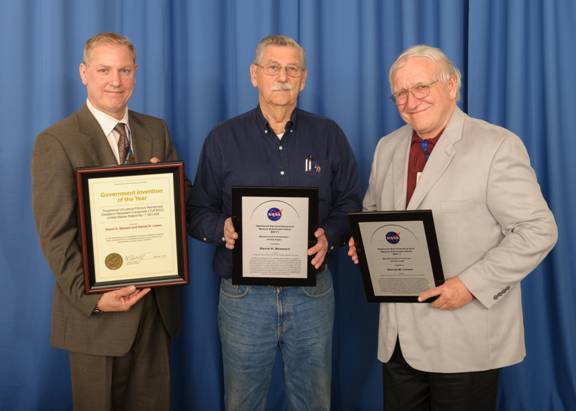 Invention of the Year Awards for 2011
The Government Invention of the Year for 2011 is Toughened Uni-piece Fibrous Reduced Oxidation Ceramic (TUFROC), developed at NASA's Ames Research Center. TUFROC is a lightweight, two-piece thermal protection system successfully demonstrated on the X37B flight vehicle. It consists of a high temperature, impregnated carbonaceous cap mechanically attached to a lightweight fibrous silica-base material.
The key innovations enable the integration of the surface treated carbon cap with the silica base insulation, which would otherwise fail from mechanical, chemical or thermal factors.
The Commercial Invention of the Year for 2011 is a Solar-Powered Refrigeration System, developed at NASA's Johnson Space Center. The refrigeration system uses a high efficiency, variable speed direct current (DC) vapor compression cooling system without a battery; electronic controls directly connect the refrigerator's solar photovoltaic (PV) panel to its compressor.
It's able to bridge nighttime lack of solar power due to well-insulated cabinet and generous thermal storage capability. This invention provides a practical new refrigeration system using only solar power, independent of electric grid or battery, thereby reducing weight and lowering transportation and maintenance cost.
Software of the Year Award for 2011
The Autonomous Exploration for Gathering Increased Science System (AEGIS), developed at NASA's Jet Propulsion Laboratory, won the Software of the Year award for 2011. AEGIS provides automated targeting for remote sensing instruments on the Mars Exploration Rover (MER) mission. Prior to this invention, targets for rover remote-sensing instruments, especially narrow field-of-view instruments (such as the MER Mini-TES spectrometer or the 2009 Mars Science Laboratory (MSL) Mission ChemCam Spectrometer), had to be selected manually based on imagery already on the ground with the operations team. AEGIS enables the rover flight software to analyze imagery onboard in order to autonomously select and sequence targeted remote-sensing observations in an opportunistic fashion. AEGIS enables onboard selection of science targets by analyzing rover imagery locally and using target preferences dictated by scientists in advance. AEGIS also provides automated targeting of remote sensing instruments by re-targeting these instruments onboard at newly selected science targets. No other onboard mission software provides automated targeting capabilities for rover science activities. It is also directly applicable to future rover missions such as the 2011 MSL rover mission and the planned Mars Sample Return (MSR) rover mission.
Runner up awards were given to:
Robonaut2, from Johnson Space Center, redefines how robots interact with humans and aide them in a safe and effective manner.
Honorable Mentions:
C-MAPSS40K from Glenn Research Center
CDEM C/D
DLiSP/DAPS from Langley Research Center
SCPD from Marshall Space Flight Center
SensorWeb from Goddard Space Flight Center
STAR from Ames Research Center