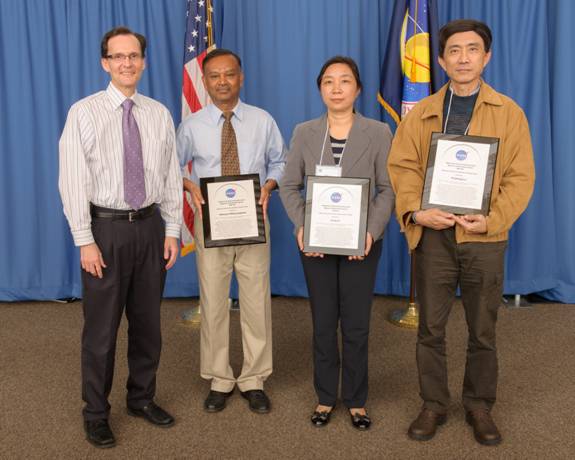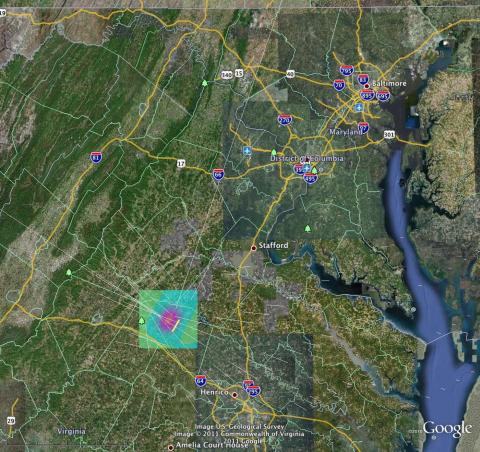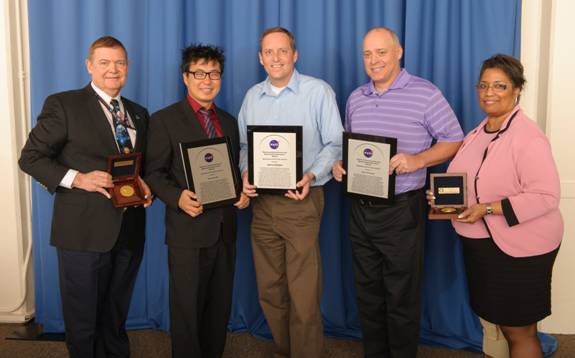 Invention of the Year Award for 2012
NASA's Ames Research Center, Moffett Field, CA, won the 2012 NASA Government Invention of the Year for a tiny sensor that can detect chemicals in the air. High Sensitive, Low Power and Compact Nano Sensors for Trace Chemical Detection was invented by Jing Li and Meyya Meyyappan of NASA Ames, and Yijang Lu of the University of California, Santa Cruz.
The invention includes methods and systems for estimating one or more unknown parts of a gas using carbon nanotubes. The electronic sensors developed from these carbon nanotubes are inexpensive, light-weight and consume very little power. A typical sensor device based on this concept includes a set of comb-shaped metal microelectrodes fabricated by photolithography on an electrically insulating substrate.
The sensors have been deployed by NASA to detect trace gases in the crew cabin on the International Space Station. Other federal agencies are using sensors based on this technology to detect trace gases in various environments. Specific applications for which the innovative sensors have been tested and used include trace chemical detection in planetary exploration, air monitoring, leak detection and hazardous agent detection using cell phones. Potential future applications may include environmental monitoring, industrial process monitoring and control and biomedical diagnosis.
"We're very pleased to have Ames inventiveness recognized with this award for the third consecutive year," said S. Pete Worden, NASA Ames center director. "With this invention, our people have basically created the insides of a tricorder, and based on the uses we've already demonstrated, I can't wait to see the fantastic applications that NASA and industry are going to devise for it."
Software of the Year Awards for 2012
Two NASA software design teams received the agency's prestigious Software of the Year Award for 2014. One team's software helps forecast earthquakes; the second is an app that helps bring NASA content to the public.
QuakeSim, developed at NASA's Jet Propulsion Laboratory, has huge potential to save lives by increasing earthquake forecasting from 20 years to 5 years. It is broadly used by government agencies, universities, and industries specializing in prediction, loss prevention, recovery preparation, insurance, and environmental concerns. See QuakeSim's Wikipedia page for more information.
NASA's app, developed at NASA's Ames Research Center, is reaching a huge audience and communicates a huge spectrum of data from NASA activities in a new way. With easy and intuitive access to over 150,000 images that are formatted for mobile devices, videos, live streaming and featured articles over the latest at NASA, the general public now has a better way to keep up-to-date on the latest technologies and mission developments. Many technical challenges were overcome to display this volume of information efficiently enough to be used on smart phones. Links to download the app can be found at www.nasa.gov/centers/ames/iphone/index.html
Runner up awards were given to:
Open MDAO, from Glenn Research Center, allows users to tie related simulation tools together for holistic designs of related systems.
Honorable Mentions:
GO-Sim from Goddard Space Flight Center
RITRACKS from Johnson Space Center