An inside perspective on the value of T2U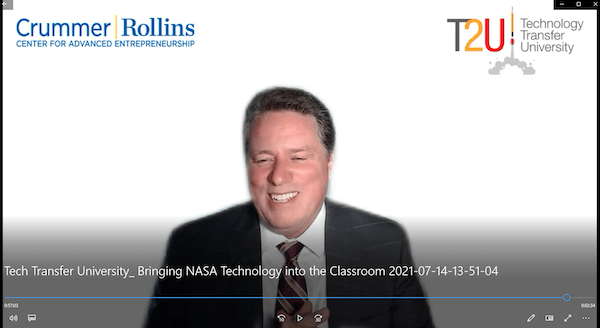 On July 14, 2021, NASA hosted a webinar event with Dr. Pete McAlindon titled Tech Transfer University: Bringing NASA Technology into the Classroom. The following is an overview of the webinar content and a transcript of the Q&A Session. To view the recording of the Webinar click here.
Technology Transfer University (T2U) is an instructor-led program that involves infusing an existing curriculum with NASA-developed technology to enrich the academic experience and potentially launch new startups. T2U helps NASA build relationships with innovative colleges and universities around the country. One of the most longstanding of those relationships is with Rollins College of Winter Park Florida. Dr. Pete McAlindon is the Entrepreneur in Residence at the Rollins College Crummer Graduate School of Business, and he also serves as Crummer's Executive Director of the Center for Advanced Entrepreneurship. Dr. Pete pulled from his nearly 10 years of experience with NASA T2U to share meaningful insights into the value of working with NASA IP in the classroom.
In 2012, NASA Kennedy Space Center approached Rollins College Crummer Graduate School of Business with an innovative idea. They wanted to introduce teams of students to NASA-developed technologies and have them develop case studies for commercializing them. Crummer worked closely with NASA KSC to collaboratively create an academic capstone course around this idea, the course now enables MBA students to learn how to commercialize NASA technology through a dynamic experiential course program.
Dr. Pete has developed the Integrated Capstone Experience as an actionable guide for entrepreneurship. The program takes students through a 32-week experiential learning program, spanning the entirety of their second year in the Experiential Masters of Business Administration EMBA Program. ICE is a unique capstone experience that combines traditional lecture-based learning with dynamic experience-driven activities.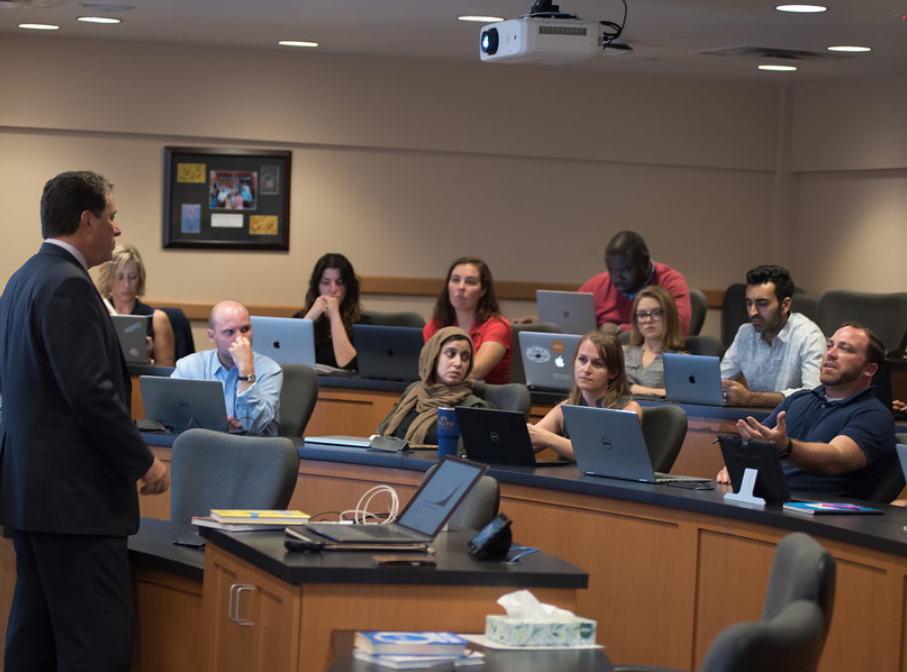 At the beginning of the program, students are given the choice between working on a consulting project (domestic/global) or working on a NASA technology commercialization project. The students then go, step by step, through the process of developing and launching a sustainable startup company. "This is not your traditional classroom experience. We try to really give the students exposure to the real entrepreneurial ecosystem here in Central Florida and help them create networks and learn from the people here at Rollins, but also people in the broader community," said Dr. Pete. This program is a very well-established and involved example of how college/university level instructors can incorporate NASA-developed technology into their curriculum to enrich the student experience.
Over the years this program has turned out several startup companies, the most recent of which is a Cleantech company called ecoSPEARS, which is using patented NASA environmental technologies to clean toxins from sediments, soil, and groundwater. ecoSPEARS utilizes NASA's Sorbent Polymer Extraction and Remediation System (SPEARS), which was one of the technologies selected for the 2015 Rollins student cohort.
NASA T2U is adaptable by design and can be implemented at both the undergraduate and graduate levels. If you are interested in getting involved with NASA T2U you can visit our website.
Webinar Q&A Session
Q: How has your curriculum changed over the years?
A: It changes every time we do this— it has to because each team has a different dynamic. The patents are ever changing. However, the changes have become less elemental over time. One of the major changes we made early on was switching from a 12 week program to a 32 week program.
Q: What is the process for selecting the technologies for the students to work with?
A: I like to collate a group of technologies that will work well for certain markets, I work with the Tech Transfer Office at the Kennedy Space Center to find patents that reach certain criteria. I put together a short list of patents (10-15) and the students pick from there.
Q: Could this program be done in 8 weeks?
A: Yes, but you would have to do a lot of upfront work and students need to be very motivated.
Q: Does NASA provide any curriculum materials for the program?
A: NASA does not provide any curriculum material upfront, but Dr. Pete has offered to share his syllabus and course outline.
Q: Have you had any students actually start companies from your program?
A: Yes. One of the advisors from the program started a company called ecoSPEARS after his group worked with the SPEARS technology during the course. Learn more about ecoSPEARS here.
Q: Are there any costs associated with the T2U program?
A: No there are no costs associated with the program.
Q: What advice would you give to an instructor who wants to implement a T2U program at their university?
A: Talk to your students, see what kind of interest they have in this kind of entrepreneurial work. I would also encourage them to speak with Mikaela McShane or Christie Funk from the T2U program if they have questions about getting started.
This program has been so much fun, and the students really love it. It is not your typical college experience, the students get to try things out in a controlled environment with the support of faculty and community advisors.
If you are thinking about doing this, I can tell you that it adds significant value to the entire experience for both students and professors.
To view the recording of the T2U Webinar Q&A Session click here.