NASA's Technology Transfer Portal hosts information on all of the NASA-developed technologies available to your business. Our patent portfolio contains more than 1,200 technologies that have been organized into categories and made searchable so you can easily identify technologies suited for your business needs.
Once you've found a technology, applying for a technology license is simple and straightforward. With the click of a button, you can begin the online application process using NASA's Automated Technology Licensing Application System (ATLAS). The system will guide you through every step of the licensing application process and keep you updated about the status of your application.
Every technology license is different. We'll work with you to design an agreement that helps you achieve your business goals. Licenses can be:
After submitting your license application, the terms of the agreement are worked out by you and the NASA license manager.
Every deal is different. Companies can apply for rights to a single technology or a group of technologies. You may want exclusive rights, worldwide or in a field of use or geographic region that is important to you. Costs will vary in consideration of the types of license that is granted. The curve below shows how license fees change with the value of the rights granted.

When you talk with the NASA licensing team, you will learn that there are 3 components to licensing fees:
an upfront fee—a lump sum payable on the signing of the patent license agreement. For non-exclusive licenses, these upfront fees usually range from $5,000 to $10,000, though we offer special licensing terms with no up-front fees to startup companies. Exclusive license fees are higher, and since each one is unique, it is difficult to provide an accurate range. It is through the upfront fees that NASA seeks to recover some of its investment in the patent filing and maintenance costs.
yearly minimum royalties—Based on the business plan, these fees are designed to ensure that licensees are actively engaged in working toward commercial applications.
running royalty percentage—Based on revenue, these fees are negotiated, but generally range anywhere from three to seven percent. They can also be negotiated down by a higher upfront fee. Within the range, fees may vary by the readiness/maturity of the technology, the industry application of the technology, and the exclusivity desired by your organization.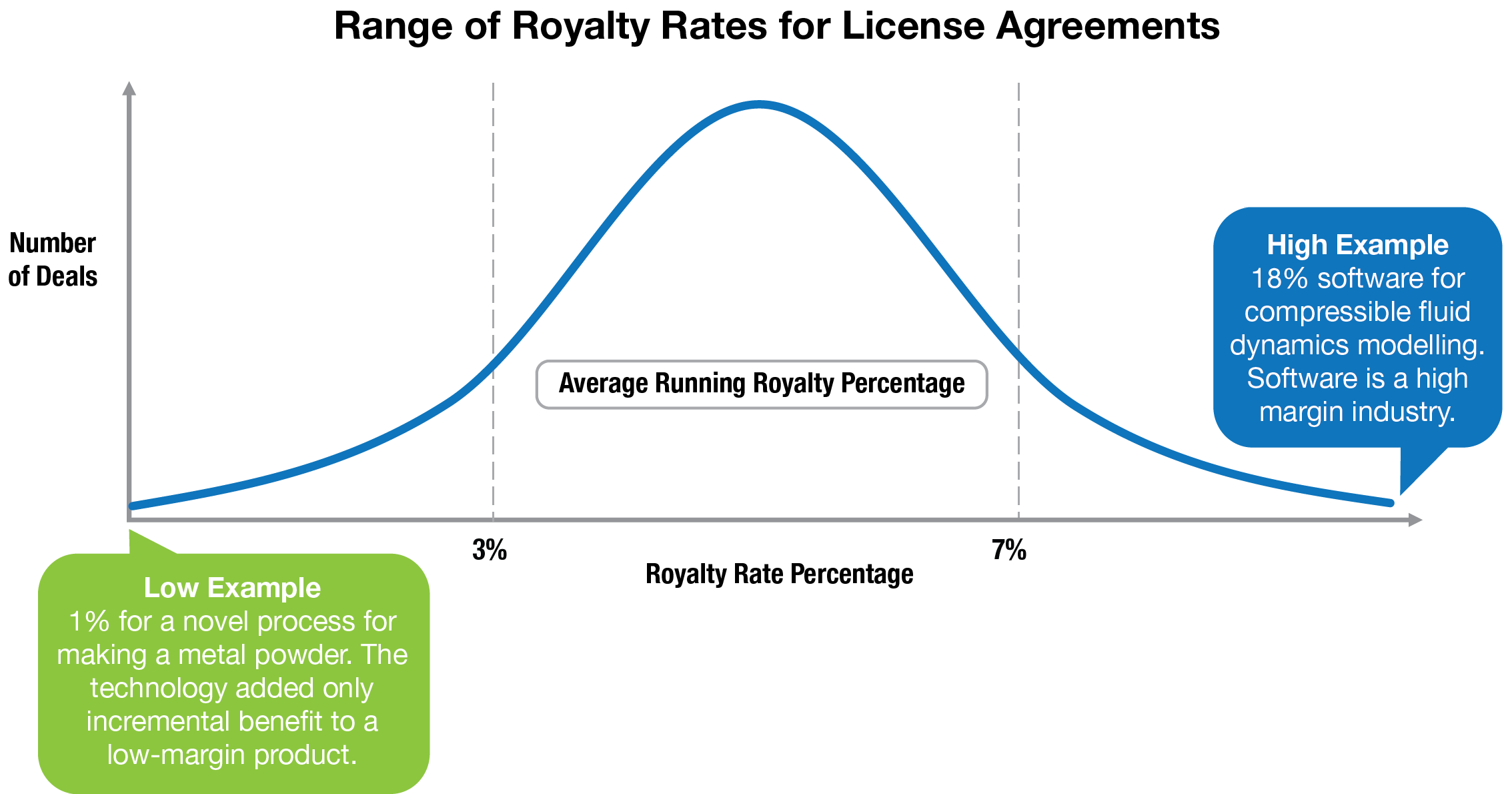 Considerations that impact licensing fees include:
In what industry will the technology be sold or used?

Royalty rates factor in the margins of the industries in which the licensee operates. Royalty rates in larger margin industries, such as aeronautics are higher than lower margin industries like coatings or environmental.
How mature is the technology?

NASA licenses technologies at all stages of development. Less mature technology requires more investment from the licensee to develop the technology so lower fees and/or royalty rates may be justified; however, a mature technology is more market ready and commands fees and/or royalty rates in the higher end of the range.
What degree of exclusivity is needed?

Exclusivity pushes fees to the higher end of the range, as it can provide significant value for a business plan. And, it limits competition and opportunities for multiple licenses.
When terms for the license are set, NASA and the company execute the license under the terms of the agreement.

After the license is granted, the NASA monitors the licensee's sales of products and services that use the licensed technologies. Our team may write success stories and, upon approval by the licensee, these may be published on NASA's Web site, in NASA's Spinoff magazine, or in other publications.