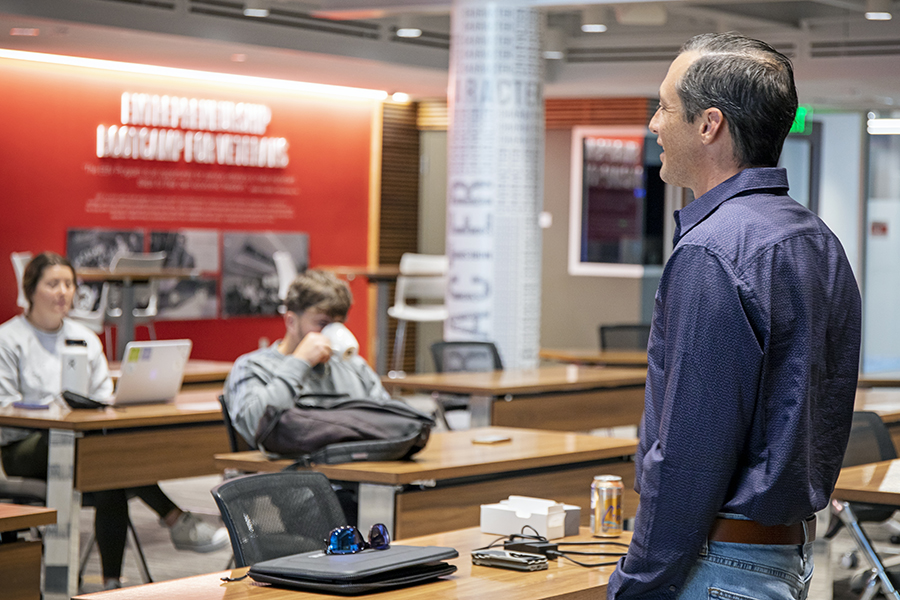 In the fall of 2021, Florida State University's Jim Moran College of Entrepreneurship (JMC) kicked off its first semester of participation in the NASA Technology Transfer University program. JMC student-entrepreneurs conceived, validated, and launched new ventures around NASA-developed patents while learning about commercialization and licensing opportunities. "NASA's T2U program was designed to be integrated into an existing curriculum, making it accessible to a wide range of academic programs. The STEM Entrepreneurship program is well aligned with the T2U curricula. The foundational understanding of STEM makes the students that much more prepared to work on tech-focused entrepreneurial projects with the NASA-developed technology." Said Mikaela McShane, NASA T2X program coordinator.
During the fall semester Jeff Whalen, PhD, STEM Entrepreneur in Residence, Director of STEM Entrepreneurship and Teaching Faculty II at JMC, integrated NASA T2U into several of his graduate and undergraduate courses: ENT2620 The Entrepreneur's Perspective on a Survey of STEM, ENT3001 Experiences in Entrepreneurship, and ENT5936 Product Development Colloquium. "I was immediately drawn to the NASA T2U program because it felt like a perfect mix of science and business. Introducing these entrepreneurship students to NASA-developed technologies positions them to take advantage of licensing mechanisms that they might otherwise not have encountered until many years after graduation, exposing them to a myriad of technology transfer and innovation commercialization cycles and funding." Said Dr. Whalen
Dr. Whalen's courses in the undergraduate STEM Entrepreneurship program broadly focus on educating students on the most current concepts, methodologies and industry practices of entrepreneurship, but also provide students with an overview of the foundations of the primary areas of Science, Technology, Engineering, and Mathematics (STEM) as viewed through an entrepreneurial lens. Students enrolled in these courses obtain a high-level overview of the STEM field, better preparing them to enter the workforce and create tech-based ventures. These STEM areas include but are not limited to physics, chemistry, biology, mathematics, engineering, computer science, and medical science. The courses provide the foundational information and fundamental skills that student-entrepreneurs need to be successful in their STEM-enabled startups.
"I am so pleased to see our students already engaging with the NASA T2U program in the first semester of FSU's participation. This type of opportunity gives all of the students at FSU an actionable way to experience innovation and commercialization with NASA. We are especially excited about this opportunity for our STEM Entrepreneurship undergraduate students in the JMC.  We are looking forward to the progression of these new NASA technology enabled ventures created by our students over the course of the spring semester." said Susan Fiorito, PhD. Jim Moran Professor and Dean of JMC.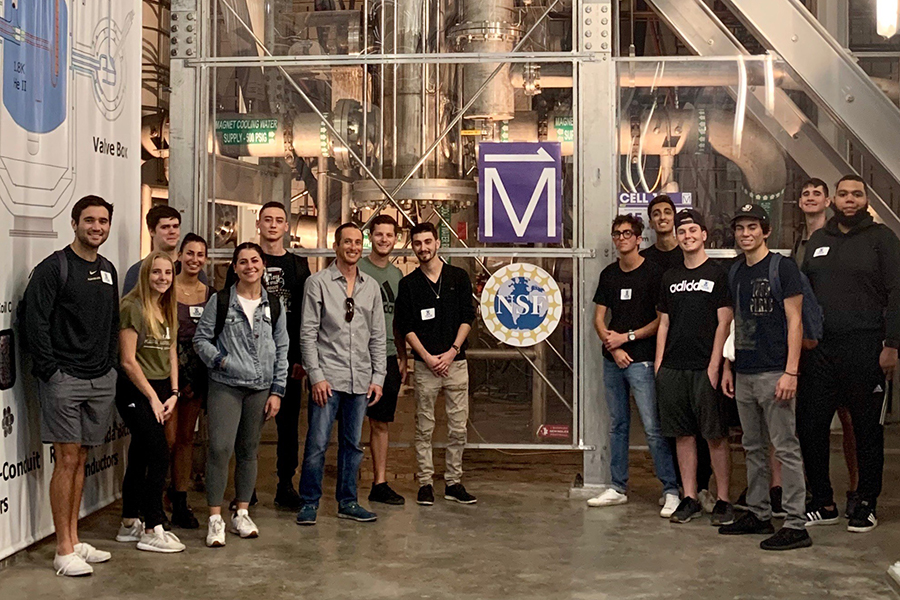 The students worked on their ventures individually, choosing one NASA-developed patent to use as the basis or key leverage for a STEM-enabled technology startup. As part of the students' curricular and cocurricular activities they were able to apply what they learned in the classroom to their startups and build out business plans and go-to-market strategies. After a rigorous semester, some of the students decided to continue developing their ideas and with the goals of forming an actual registered company and pursuing startup licenses from NASA. Diksha Jangra, a senior STEM Entrepreneurship student at JMC, is working with a NASA-developed sensor technology from Marshall Space Flight Center. Diksha is actively pitching her venture concept in JMC's Microgrants program where students at FSU can pitch their ideas and ask for up to $5,000 from a committee of JMC faculty and stakeholders "When I tell people we get to work with NASA-developed patents, they immediately want to know more. This experience made NASA more accessible to us, I would never have thought that I would have the opportunity to license a NASA patent." Said Diksha Jangra.
"The timing could not have been better for us to start participating in this program. In so many ways, the existence of NASA T2U validates the STEM Entrepreneurship program at JMC and what FSU is doing with these types of forward-thinking programs. There is an overwhelming need for entrepreneurs with STEM training integrated into their business knowledge. These STEM Entrepreneurship students represent a new breed of CEO's that can seamlessly communicate with both the business and technical teams at their companies. " Said Dr. Whalen.
For more information about FSU's STEM Entrepreneurship Program at JMC, click here.