NASA's Fiber-Metal Laminate Manufacturing Technique Webinar
NASA's Fiber-Metal Laminate Manufacturing Technique Webinar
Join us for an exciting webinar on NASA's technique for synthesis of fiber-metal laminates (FMLs) by radio frequency plasma spray deposition.

Fiber-metal laminates combine the strength and stiffness of fiber-reinforced polymer matrix composites with the durability and toughness of metallic alloys, making them ideal for a range of applications. The use of radio frequency plasma spray deposition offers a unique approach to the fabrication of FMLs with many advantages. For instance, the process is suitable for highly reactive materials, allows for tailorable FMLs, and enables materials that exploit the unique properties of nanoparticles in metallic structures. This new manufacturing technique will help create better FMLs for lightning strike protection and open the door to new FML applications.
For more information on this technology, click here.

During this virtual event, we will delve into the advantages of FMLs, their potential applications, and the benefits of using radio frequency plasma spray deposition for their synthesis. We will also have a Q&A session with an inventor of the technology.

Register now to reserve your spot!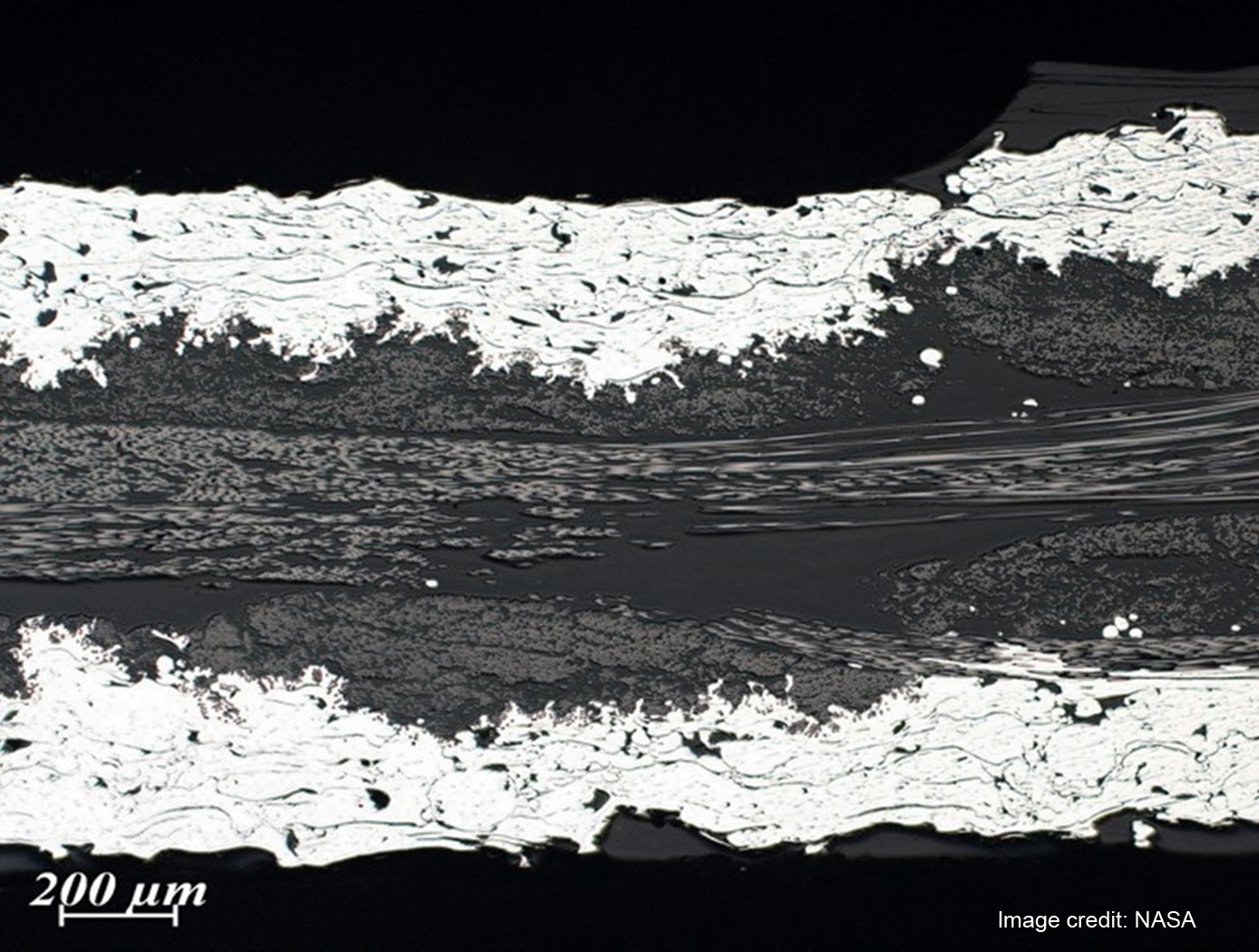 Presenter: Dr. Brian J. Jensen
Brian J. Jensen is NASA's Senior Researcher for Advanced Materials and Deputy Technical Fellow for the NASA Engineering and Safety Center Materials Technical Discipline Team.  He has been employed at the Langley Research Center in Hampton, VA, since 1980 and is currently working in the Advanced Materials and Processing Branch. He received a B.S. degree in Chemistry from Randolph-Macon College in 1980, an M.A. in Chemistry from The College of William and Mary in 1983, and a Ph.D. in Chemistry from Virginia Commonwealth University in 1990, specializing in organic and polymer chemistry.  Dr. Jensen's duties involve the development of new high-performance/high-temperature resistant polymers and composites and associated novel processing methods for advanced aerospace applications.  He has worked in several areas including composite matrix materials, adhesives, flexible high-temperature resistant insulations, and metal/organic hybrid materials.  He has almost 200 publications, 31 US patents, and 53 commercial licenses.  He received the NASA Exceptional Achievement Medal, two NASA Commercial Inventions of the Year (1998, 2008, Honorable Mention 2018), an R & D 100 Award, the NASA Exceptional Service Medal, and is a member of the NASA Inventor's Hall of Fame.