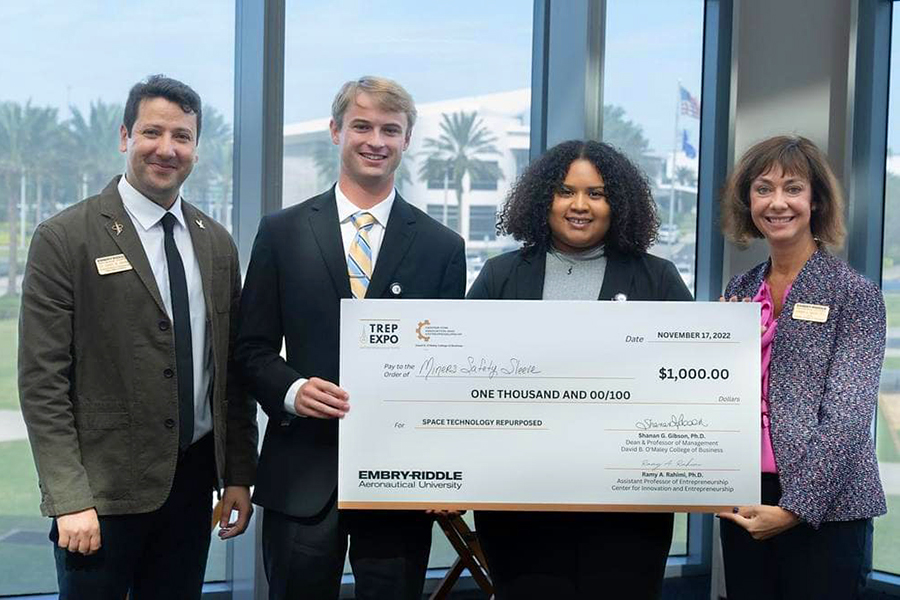 In Daytona Florida, just an hour north of NASA's Kennedy Space Center, Embry Riddle Aeronautical University is doing something unique with its Technology Transfer University Program. 
"Entrepreneurship traditionally starts with a problem, but because we have the NASA technology, we are starting with a solution. I devised a process called reverse entrepreneurship, like reverse engineering, in which we create problem-solution-fit in reverse. We use a more robust business model, which focuses on feasibility." Said, Dr. Ramy Rahimi Embry-Riddle Aeronautical University Assistant Professor.
Dr. Ramy Rahimi is a tenure-track Assistant Professor of Entrepreneurship and entrepreneur turned educator, is utilizing NASA-developed technology in three of the courses he teaches at ERAU: Venture Creation (MBA Course), Entrepreneurship I & Entrepreneurship II. These courses create an environment conducive to the development of an entrepreneurial mindset. Students work individually and in groups to take a NASA-developed technology through the stages of ideation and commercialization along Dr. Rahimi's distinct reverse entrepreneurship continuum. The course adopts NASA-Developed Technology through the NASA Technology Transfer Program T2U to repurpose space technology and generate new startup and venture ideas.
The experimental, iterative nature of the program stems from the collaboration between the students seeking potential areas of intersection and offering feedback to one another. Even though they compete against each other in the classroom and pitch competitions, they support and challenge each other to think bigger as well. "Working with technology from NASA makes it easy for us because everything is post-validated intellectual property." Said Rahimi. 
This program goes beyond the academic use-case of T2U; these students are developing real business concepts around these technologies and then leveraging the tools available to them through ERAU to incorporate their startups and license the NASA technology.
In the spring semester of 2022, six student-team finalists pitched their startup concepts in Embry-Riddle Aeronautical University's annual Launch Your Venture business competition, hosted at the university's Research Park. Four of the six teams were Embry-Riddle students, all of whom plan to incorporate their startups and license the NASA technology. Two of those students applied and were accepted to NASA's Tech Center Research Park Accelerator Network. The program is focused on empowering minority-led startups to form around NASA-developed technology. Participants received high-impact lectures and hands-on instruction in lean startup methodology and venture creation. The program also focused on organic collaboration, enabling complementary teams to form and passions to align with capability.
Embry-Riddle Aeronautical University does an excellent job of creating opportunities to showcase student work and give fledgling entrepreneurs exposure. The university recently hosted its annual TREP Expo, the university's entrepreneurship competition, held Nov. 17 on the Daytona Beach Campus. The Trep Expo is a business competition testing the commercial viability, innovativeness, and overall interest of entrepreneurship concepts. This year was the largest to date with 30 student-led startup ideas and 78 participants, several of which came from Dr. Rahimi's T2U course. "The Embry-Riddle T2U program has been great, and the students have done an amazing job with the NASA technology. The TREP Expo is a great showcase of the student's hard work and entrepreneur aspirations." Said Delvin VanNorman, NASA Kennedy Space Center Technology Transfer Program.
Dr. Rahimi was featured on the Startup NASA Feature Series to talk about his unique approach and share lessons learned and best practices for incorporating T2U in a business entrepreneurship class.
For more information about Embry Riddle Aeronautical University Center for Innovation & Entrepreneurship (CIE) click here.